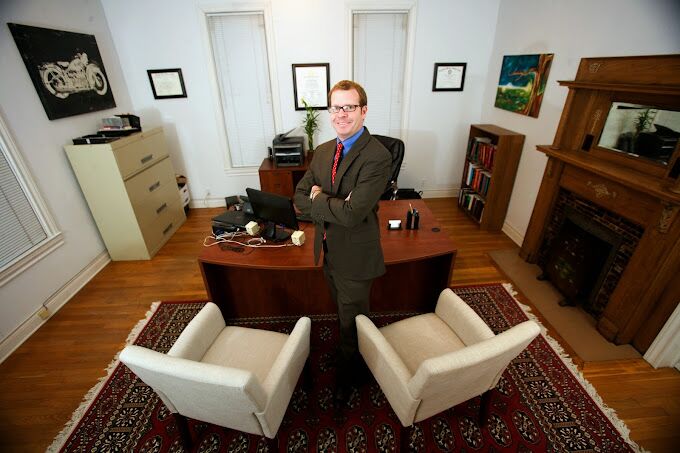 DWI Lawyer in Austin Texas: Legal Steps and Strategies
Facing a DWI (driving while intoxicated) charge in Austin is no laughing matter. Even a first-time DWI offender can face long-term consequences such as jail time, heavy fines, license revocation, and a criminal record.
These cases can become complex, which is why you must take proactive measures to fight charges levied against you. This is why you need aggressive representation. At The Law Office of Eric Harron, we are committed to providing professional and aggressive legal counsel to the Austin, Texas area. Read on as we go over the services of a DWI lawyer in Austin, including the legal solutions you should pursue to handle these charges.
If you are ready to get started and get aggressive legal representation, contact Eric today at 512-693-8855 and schedule your free consultation.
Charged With Driving While Intoxicated (DWI) in Austin, Texas?
Before a DWI charge, an officer must have "reasonable suspicion" to pull a driver over or otherwise detain them. This is when a law enforcement officer conducts an investigatory stop for possible criminal activity. Reasons for a pullover can be simple such as:

Driver deviates from a lane

Speeding

Headlights not on at night

Tail light is out
A first offender DWI arrest in Texas is classified as a Class B misdemeanor—which means a conviction can result in a punishment of up to 180 days in jail and a fine of up to $2,000. However, the severity of punishment depends on whether this is your first charge and your blood alcohol concentration (BAC) at the time of the incident.
For example, individuals who registered 0.15% or higher may face a Class A misdemeanor charge. In Texas, the legal limit for intoxication is 0.08%.
Following an arrest and release on bond, you can expect the following types of court settings:
Arraignment hearing: This is an initial court appearance usually to inquire as to why you have not hired an attorney yet.
Preliminary hearing: This is where discussions of evidentiary issues will take place between the prosecutor and your defense attorney.
Pre-trial hearings: Pretrial hearings can have multiple purposes. At a pre-trial hearing, your attorney can have motions ruled on to accomplish various things. They can often challenge how evidence was obtained against you, seek additional evidence or potentially even work out a resolution to your case.
If you are facing a DWI charge, it is important to have aggressive representation in which you can have comfort and confidence. Call to discuss your case and representation.
About Eric Harron the DWI Lawyer
As a member of the State Bar of Texas, the TexasCriminal Defense Lawyers Association, and the Austin Criminal Defense Lawyers Association Eric Harron is committed to providing you exceptionally high quality representation for your DWI case as well as any other criminal defense cases. Eric Handles all manner of criminal defense and personal injury cases. He is committed to giving his clients the assistance they deserve as they face what can be a complicated and confusing process of defending their rights in a court of law. Trust Eric Harron to handle your case as a lawyer who uses his knowledge and application of the law to defend his clients and their individual rights in the court system.
The Law Office of Eric Harron provides professional and aggressive legal counsel to over 20 cities in the greater Austin, TX area, with offices located in Austin, Georgetown, and Temple. Eric Harron is devoted to giving you the legal service you need and deserve.
Proven Track Record
Being well versed in DWI defense, The Law Office of Eric Harron has over 15 years of experience handling a wide range of criminal law cases as a Texas DWI lawyer. Read more about our successful case results.
State v. O. U.
Client was charged with a DWI second. He performed poorly on all the field sobriety tests. He was asked to count as well as say part of the alphabet where he mistakenly repeated numbers and letters. After he was arrested an empty bag containing cocaine residue was found in his possession.
Result: Not Guilty.
State v. F. M.
Client was charged with DWI. Client performed poorly on field sobriety tests. After his arrest the client proceeded to scream obscenities and insults at the officer the entire way back to jail.
Result: Not Guilty.
State v. C. D.
Client was charged with DWI. Client had a strong odor of alcohol coming from his breath. He was wearing disheveled and stained clothes and was wearing a wrist band indicating he had been at a dance club.
Result: Not guilty.
Read more of our DWI case results and success here.
How Much Does a Lawyer Cost for a DWI in Texas?
Hiring a DWI attorney is your only viable option following an arrest. While you can expect to pay thousands of dollars even if your case doesn't go to court, your final estimates will depend on the following:
Legal background: Expect higher costs if your selected law firm is highly reputable with years of DWI defense experience.

The severity and complexity of the case. The more severe the case is (for example involving an accident or prior arrests) the greater workload required in the defense of it).

Victim Injuries. If there are injured victims from an accident, there will be significantly more evidence in your case for your attorney to review.

Trial: If a jury trial is required, your attorney costs could increase significantly.
What Is the Current Average Cost of a DWI in Texas?
So how much will a DWI charge cost you in the long run? The truth is there's no set answer. Your estimates will depend on several conditions, including the following:
Number of prior arrests

Impound lot fees

Bail bonds

Drug tests

Level of misdemeanor or Felony

Pre-trial and bail fees

Number of court appearances

Legal team's years of experience

Lawyer fees

Outcome of case
Meeting with an attorney is the best way to understand not only the charges against you but the costs associated with your defense and potential outcomes. This will give you peace of mind as you move forward. The good news is that The Law Office of Eric Harron is up-front and reasonable with our legal fees.
Finally, remember that the Law Office of Eric Harron offers a free DWI consultation to examine the facts of your case.
Don't hesitate. Call The Law Office of Eric Harron to schedule your free consultation to discuss your case today.
Do I Need a DWI Lawyer in Texas?
An arrest does not ensure a conviction. Hiring an experienced DWI attorney in Austin is the most effective strategy for avoiding long-term legal consequences, including jail time, license revocation, or a permanent criminal record.
A reputable defense attorney like Eric Harron can craft a solid defense strategy by finding gaps or unlawful practices that can result in a reduced sentence or a case being thrown out.
Step-By-Step Process to Resolving a DWI
Once you've decided to take decisive measures to fight your DWI charge, here are three critical steps you need to follow.
1. Choose An Attorney You Trust
After scheduling a consultation, make sure your attorney has explained what his or her initial thoughts on the case are. A good attorney will make it abundantly clear that they care about their clients. They should also know how to handle prosecutors, analyze the evidence and strategize DWI cases that encourage favorable outcomes for their clients. Establish ongoing communication with your attorney and demand straightforward responses to your concerns. They should be able to tell you the process and the specifics of the court where your individual case is pending.
2. Discuss the Evidence With Your Attorney
Your attorney will be provided with a significant amount of evidence in your case. This will at a minimum include a written arrest report and a video of the arrest. It may also include blood or breath testing results. Your attorney should be able to explain how the evidence can be used against you and potential problems with the state being able to prove the case against you. If you wish, you should schedule an appointment to review all of this evidence with your attorney.
3. Choose a Course of Action
Your attorney should advise you of the best course of action. But, the decision is ultimately yours on how you want your case to proceed. You are the one who gets to decide if you should take your case to trial or whether or not to accept a plea bargain your attorney has worked out. However, you should strongly value the opinion and guidance you have received from your attorney in making a decision to ultimately resolve your particular case.
Finally, your attorney should be well-versed in the current DWI Texas penalties, including recent developments.
Build a Case with The Law Office of Eric Harron
Hiring a DWI lawyer in Austin is the first step to regaining control of your life and seeking protection from criminal charges. Why choose The Law Office of Eric Harron? As a member of the Austin Criminal Defense Lawyers Association, we bring over 15 years of experience helping clients retain their rights in the face of complex legal cases.
Check out our quick introductory video to hear a brief statement from Eric Harron on DWI defense. Contact us to schedule a consultation.
Visit our Austin Texas Office
Located conveniently near Central Austin and the Travis County Courthouse, our law office is open Monday through Friday from 9am-6pm.
The Law Office of Eric Harron
819 ½ W. 11th St.
Austin, TX, 78701